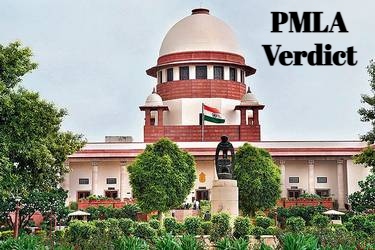 A three-judge bench of the Supreme Court has examined the stringent provisions of the Prevention of Money Laundering Act, 2002 (PMLA) and has found them to be within the ambit of the constitution. It has also said that the stringent bail conditions set in PMLA are valid as the defects pointed out by the SC in 2017 had been subsequently cured and are now valid. The bench was also of the view that the special powers granted to the Enforcement Directorate (ED) were also not in conflict with the constitution as the same powers were there in other laws which have stood the test of time and had not been declared unconstitutional. SC also upheld the provision that statements made before the ED are admissible in a court of law.
The Supreme Court said that apart from concealment, possession and acquisition of a property linked to the proceeds of crime, even projecting such a property as being 'untainted' was an offence under the PMLA. This means that anyone buying a 'tainted' property, even unknowingly, can be prosecuted under PMLA. The court also upheld the power of the ED to arrest the accused without supplying him with the ECIR (enforcement case information report) and by just informing him or her of the reason for the arrest. It also held as valid ED's power to seize assets under PMLA without the registration of scheduled offence or filing of complaint.
After the Supreme Court order, many PMLA cases that were stuck due to court cases filed by the accused on various points of law (mainly that the provisions of the PMLA were unconstitutional) will now be proceeded with again. Although the opposition has called the SC order "unfortunate" and has said that the 'misuse' of ED will increase, the fact is that the PMLA is an important law that can be very effective in proceeding against corrupt politicians and others who hide their ill-begotten wealth using various means. The Supreme Court, while issuing a 545-page verdict that examined the provisions of PMLA minutely, has said that "money laundering cannot be said to be less heinous than the offence of terrorism" and that "tainted money breeds discontent in any society and in turn leads to more crime and civil unrest, and thus, the onus on the government and the people to identify and seize such money is heavy."