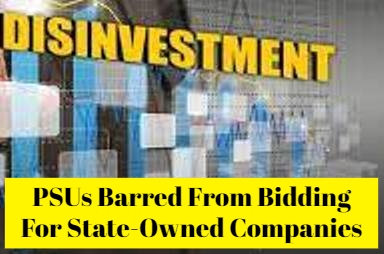 The government has finally woken up to the defect in the disinvestment policy. It has now, through a circular, barred PSUs from bidding for or investing in other companies owned by the central or state governments. When it had got ONGC to but majority stake in HPCL to boost disinvestment receipts in January 2018, the deal was criticized sharply by Comptroller and Auditor General of India (CAG) which said that "such disinvestment only resulted in transfer of resources already with public sector to government and did not lead to any change in stake of public sector/government in disinvested PSUs."
This is absolutely correct. The major idea behind disinvestment is two-fold - to relinquish government ownership and to unlock the value. If one PSU buys another PSU both these objectives are not met for the ownership remains with the government and the value that is unlocked on paper just results in transfer of funds from one cash-rich government company to the government. It may be good to shore up disinvestment receipts but makes no business or political sense.
The government has belatedly realized its folly. The circular says that "transfer of management control from government of India to any other government organization/ state government may continue the inherent inefficiencies of the PSEs and this will defeat very purpose of the New PSE Policy". Meeting disinvestment targets is of importance but using backhand routes to achieve that is not good. One hopes that with this change of stance, the government will work in real earnest to get out of business and unlock value in PSUs by fast-tracking disinvestment in PSUs that have already been selected for the purpose and identify other PSUs that can be put on the block.