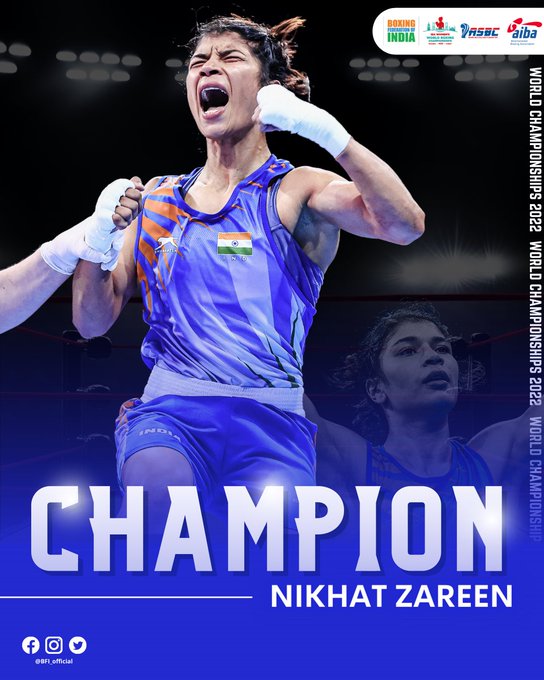 Close on the heels of India winning the Thomas Cup comes another glad tiding from the world of sports. Nikhat Zareen has been crowned world champion in the flyweight (52 kg) category at the Women's World Championships in Istanbul. Zareen out punched her Thai rival Jitpong Jutamas in the finals to get a 5-0 verdict in her favour. With this, the 26-year-old boxer from Telangana topped her amazing run from the Nationals in 2021 to become the world champion in her category. She became the fifth Indian boxer to be crowned world champion after Mary Kom (who won 6 titles), Sarita Devi, Jenny RL and Lekha KC.
Earlier this year, Zareen gave a hint of what was to come when she won the gold in the Strandja Memorial Boxing tournament by upsetting Olympic Silver Medallist, Buse Naz Cakiroglu of Turkey in the semi-finals and then went on to defeat three-time European Championships medallist Tetiana Kob of Ukraine 4-1 to clinch gold medal. She had also won the gold medal at this tournament, held in Sofia in Bulgaria, in 2019 too. Her form this year has been awesome and she has beaten boxers from all over the world who were ranked higher than her.
In the World Championships, she beat Caroline De Almeida of Brazil in the semifinals with the same 5-0 score line. In fact Zareen was in such lethal form in Istanbul that she won all her matches on unanimous decisions. This is a great moment for boxing in India and her win is likely to popularize the sport among girls in south India, traditionally not a hotspot for women's boxing.
Picture courtesy: Image tweeted by Boxing Federation of India (@BFI_official)