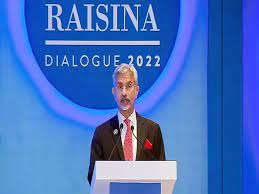 S Jaishankar, India's external affairs minister, always game to defend India's foreign policy after the war in Ukraine, moved to a higher gear during further criticism at the Raisina Dialogue 2022. He bluntly stated that it is better to engage with the world on the basis of "who we are" rather than try to be a "pale imitation" of others. Jaishankar said that "we have to be confident about who we are. This idea that others define us, somehow we need to get the approval of other quarters, I think that is an era we need to put behind us". He also reminded European nations that although they are so worked up over Ukraine, they did nothing when the situation turned from bad to worse in Afghanistan.
Earlier, when visiting the US with defence minister Rajnath Singh, when questioned about India's oil imports from Russia despite the sanctions imposed by the West, Jaishankar had bluntly said "I noticed you refer to oil purchases. If you are looking at energy purchases from Russia, I would suggest that your attention should be focused on Europe. We do buy some energy, which is necessary for our energy security. But I suspect looking at the figures, probably our total purchases for the month would be less than what Europe does in an afternoon."
This is absolutely correct. India will maintain its non-aligned (or multi-aligned, as defined by Shashi Tharoor) position without fear or favour. The West is trying to bully India while ignoring the fact that European countries are still surviving on Russian gas. After leading Ukraine to falsely believe that they would stand up for it if it joined Nato, the West has left it high and dry. India's position on Ukraine takes into account its national interest and most countries in the West have reconciled to it. It is only the European nations, the biggest defaulters of sanctions, who are making the most noise. It is good EAM Jaishankar gave them a fitting reply.