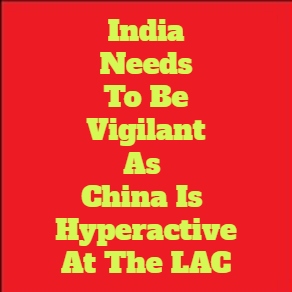 The renewed chatter about China's activities at the Line of Actual Control (LAC) raises concern. Both External Affairs Minister (EAM) S Jaishankar and Army chief Manoj Pande have issued statements last week that show that an uneasy calm prevails at the LAC, both in Ladakh and in the eastern sector. While EAM S Jaishankar said that going by "military assessment" the situation at the LAC in Ladakh was very fragile and dangerous. Army chief Manoj Pande said that China is building infrastructure along the LAC at breakneck speed and has not reduced its troops in the disputed sectors near the LAC. This in addition to the non-resolution of the situation at several sticky points along the LAC after the conflagration in 2017 despite several rounds of military commander level talks between the two countries.
It is now increasingly clear that China is up to its old trick of keeping the Indians engaged in talks, withdrawing at some inconsequential or less important points as a diversionary tactic, and simultaneously building infrastructure and beefing up troop and equipment deployment, if not at the LAC then very near to it as the troops and equipment can reach conflict points in a flash using the news roads being constructed. This is also a pointer that China will once again try to penetrate into India-held territory on the sly, like it tried in 2017. The Chinese cannot be trusted and their actions along the LAC suggest that they are planning something big.
As counter measures, India has to beef up infrastructure in all sectors where the Chinese are active. It also needs to station additional troops and advanced surveillance and combat equipment at previous conflict points and also at some new points where Chinese activity is seen. At the same time, talks must continue at all levels and efforts must be made to ask the Chinese to restore the status quo as it existed before 2017.