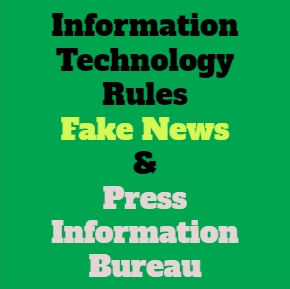 Some parts of the draft Information Technology Rules that the government has put in public domain are likely to have an adverse effect on journalism as we know of it. The Rules require that the Press Information Bureau (PIB), a Central government agency, will decide what constitutes 'fake news' and once it decides so for a particular piece of news, it must be taken down. The government has also empowered its departments to authorize any other agency to check facts and declare a piece of news 'fake' if it pertains to any government department. The Editor's Guild of India has said that it will have the effect of gagging the media as it will give the government "a carte blanche to determine what is fake or not with respect to its own work".
If one sees it objectively, the government or its departments are best suited to know whether a piece of news emanating from its departments is genuine or fake. But that is not always the case as any government cherry picks news and dispenses only those items that project it in a good light. But the media has its sources (who often prefer anonymity) who give it inside information that may be critical of the government or its policies or disclose how a particular scheme has flopped. Credible news organizations have many layers of checks and do not publish any news item without solid verification. Over the ages, through self-regulation and standard practices, renowned media organizations have in place a system whereby mistakes are promptly acknowledged by issuing apologies, corrections, presenting the other side of the story or even withdrawing the item completely in some cases. Over and above this, the government has the option of issuing a denial which is published by these media organizations with due prominence. This system has been working well and there is no need to change it.
Fake news has been defined as false or misleading information presented as news. There are many online 'media' outlets that have been publishing such news without any verification. The idea is to sensationalize news to create controversy and grab eyeballs. Most often, these 'media' outlets are of dubious origin and are started with an agenda. There are many ways that the government can prosecute such outlets and it has in fact been doing so. But if the government now puts these Rules into practice for all media organizations, it will kill the freedom of the press and most news will then be published only from the handouts given by the PIB.