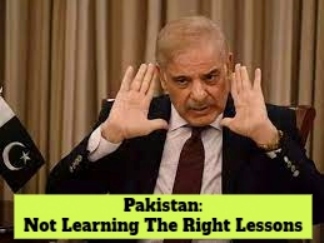 Pakistan's Prime Minister Shehbaz Sharif said on Tuesday that his country had learnt the lessons from the three wars it has fought with India which had brought tremendous hardships on its people and would like to have peace with its eastern neighbour. He talked about having "honest, serious and sincere" talks with the Indian leadership on what he called were "burning issues" like Kashmir. Initially, it seemed that Sharif had made an unconditional offer for talks. But even before India could respond, the Pakistani PMO issued a statement that any talks with India will only take place if the country reversed its "illegal action of August 5, 2109" on J&K. As Pakistan is still stuck on J&K, it shows that despite Sharif's admission of having learnt lessons from wars with India, Pakistan has still not learnt the right lessons.
What are Sharif and his office talking about? Jammu & Kashmir was never a burning issue. It was and is an integral part of India and after the revocation of Article 370 (which was in any case not a permanent provision in the Indian Constitution) it has been truly integrated into the Indian Union. Pakistan continues to illegally occupy a huge portion of the state and has even 'gifted' some portions which it did not own to China. Hence, there cannot be any talks over Jammu & Kashmir with Pakistan.
The Indian position is clear. As long as Pakistan continues to support terrorism; has a huge infrastructure for supporting and shielding terrorist activities and terrorists in its country and provides finance, training, arms and logistic support to such terrorists to wage a proxy war against India, there can be no talks over any issue, let alone J&K, with that country. Further, with the Pakistani army fully involved in managing the affairs of the country, it is not even known whether Sharif is entitled to hold such talks with India.
It seems that Sharif's present overture to India stems from the fact that Pakistan is facing all kinds of difficulties, including economic and political. It economy is in shambles and the government has not formulated any plan to restore its health. Inflation is at 21-23% and foreign exchange reserves would cover imports of only three weeks. Relations with the Afghan Taliban are strained and local groups like the Tehreek-i-Taliban have renewed terror attacks across Pakistan. But Sharif must know that India will never respond to any offer for talks if it involves J&K and if Pakistan does not dismantle the terror network in its country.