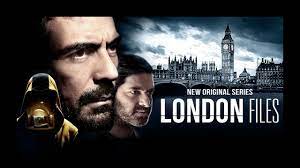 London Files (streaming on Voot) is a fast-paced thriller set in politically-divided London where an anti-immigration bill supported by media baron Amar Roy (Purab Kohli) leads to the disappearance of many immigrants. But when Roy's daughter Maya (Medha Rana) goes missing, the case is handed to Om Singh (Arjun Rampal) a flawed but extremely competent detective of the city police force.
Om is fighting personal demons - drug addiction, a son who is in jail after a shoot-out in school in which two dozen children were killed and a broken marriage. But when he starts searching for Maya, he comes across secrets which point to Amar Roy's involvement in his own daughters' disappearance and subsequent murder. When evidence becomes irrefutable, Om arrests Roy.
But subsequent events lead Om to believe that there is a deeper conspiracy behind everything. Then begins a chase in which Om discovers a cult led by a robed Gopi (Gopal Datt) which uses weird quotations and chants to brainwash immigrants into going against the anti-immigration bill. The chase introduces the viewer to the underbelly (literally, as the cult operates from a sewer) of London, hackers, a cross-section of immigrants and moles in the police department. The climax is a bit of a letdown as the series was engrossing till then.
But London Files is marked by excellent direction (Sachin Pathak, who had also directed Kathmandu Connection), smart screenplay (Prateek Prayodhi) and crisp editing. Also, what makes it immensely watchable is the excellent acting by the entire cast. Arjun Rampal leads with a great performance as the cop who is good at his work but faces too many personal problems. Medha Rana impresses in her acting debut as a daughter who is led to believe that her father is a demon but finds out the truth in the end. Purab Kohli and Gopal Datt are also competent in their small roles.