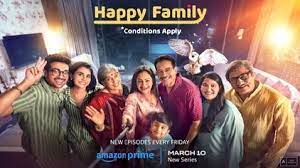 If you have had enough of thrillers, blood and gore on OTT, Happy Family: Conditions Apply (streaming on Amazon Prime) will be like a breath of fresh air. With its family-driven content, Happy Family is marked by excellent performances from Ratna Pathak and Atul Kulkarni and good support from Raj Babbar and Ayesha Jhulka. It takes us back in time when shows like Khichdi and Sarabhai vs Sarabhai used to tickle our funny bones. Happy Family (directed by Aatish Kapadia and Jamnadas Majethia, who had also helmed the two earlier shows) is also a comedy that takes us on a roller-coaster ride with the happenings in the Dholakia family.
Four generations of Dholakia's live in a four-bedroom flat in a tony Mumbai neighbourhood. They own four pharmacies and are 'traditionally' modern. The matriarch drinks champagne and asks for chilled beer when given a virgin mojito in a resort. She is also cunning and tries to create a wedge between her daughter-in-law and her daughter-in-law. Ratna Pathak in her elements and her one-liners are too good as she has perfect comic timing. As her son, Atul Kulkarni carries a pouch in which he keeps medicines and injections and offers annoyingly free medical advice to anyone who dares to even cough in his presence. The other son is in the US and marries a Kenyan, to the utter disgust of the mother.
The grandson drops a bomb when he informs the family that he wants to live separately with his wife. The blame for dividing the family goes to the grand daughter-in-law. The happenings, including jewellery being stolen (and which turns out to be fake jewellery) and apparel designs being copied set the stage for comic interludes which are often hilarious. Season 1 of the show (four episodes of around 35 minutes each) is refreshing and will keep you engaged.