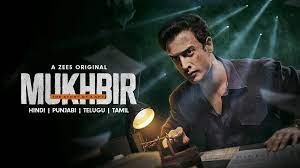 Mukhbir - The Story of A Spy is an engaging and well-crafted spy thriller currently streaming on Zee 5. Adapted from the novel Mission to Kashmir: An Intelligent Agent in Pakistan by Maloy Krishna Dhar and set in the 1960s, the directors Shivam Nair (Special Ops) and Jayprad Desai have meticulously researched and brought to life the interesting saga in an authentic manner.
The story is about a conman Kamran Baksh (Zain Khan Durrani) who tries to con two top intelligence officers and impresses them so much that one of them inducts him as a spy and sends him to Pakistan. S K S Moorthy (Prakash Raj) argues that since Army men sent as spies to Pakistan are detected and killed by the ruthless ISI man, Colonel Zaidi (Dilip Shankar), a commoner who can effortlessly con people will be more effective. Hence, he convinces his seniors Ramkishore Negi (Adil Hussain) and Joydeep Burman (Suneel Shanbag) and together they convince the powers-to-be to allow the same.
Hence begins the journey of Kamran, who is given the identity of Harfan Bukhari. Half the Bukhari family had migrated to Pakistan after Independence but Harfan's family had remained in India. Except Harfan, all others had died in a fire accident. His grandmother and uncle stay in Lahore. Moorthy rummages in old files and converts Kamran to Harfan. He is given all information, trained and sent to Lahore via Wagah border. Once in Pakistan, after the initial suspicions, the glib talker Harfan settles in and enters circles (although sometimes he is shown to do so too easily) where he can get sensitive information. His story is one of courage, cleverness and presence of mind and how he helps India avert several war-like situations and ultimately win the 1965 war with Pakistan with information supplied by him.
Although the series is engrossing, there are several parts where it drags. Two such parts are when Harfan is shown to engage in affairs - first with Begum Anar (Barkha Bisht) a singer who is close to Pakistan army chief Major General Aga Khan (Harsh Chhaya) and another with Jamila Ahmad (Zoya Afroz), the daughter of Lahore's top newspaper editor/publisher. The first can be excused as that was necessary to plant bugs to listen to Aga Khan's plans but the second is a drag. Otherwise, the way Harfan and his handler Alamgir (Satyadeep Misra) manage things and the way the story moves ahead keeps the viewer engaged.
The acting is top notch. Durrani as Kamran/Harfan is excellent and Prakash Raj as Moorthy, Adil Hussain as Negi and Harsh Chhaya as Aga Khan are exceptional. But it is Dilip Shankar as Colonel Zaidi who leaves the strongest impression as he silently eliminates Indian spies. Also good is Barkha Bisth as Begum Anar who lets her eyes do the talking. Mukhbir - The Story of A Spy (8 episodes of about 40 minutes each) is an excellent binge watch.