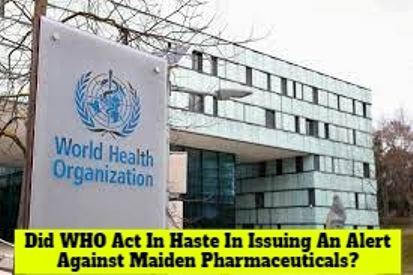 A few months ago, the World Health Organization (WHO) had insinuated that India's Maiden Pharmaceuticals, the Haryana-based drug manufacturer, had supplied sub-standard paediatric cough syrups to Gambia and linked it to the death of 66 children in that country. Now, after the results of the tests conducted on the samples of final products and raw materials drawn from the manufacturing facilities of the drug firm have confirmed that there was nothing wrong with the syrups and they met with all prescribed standards, the government of India has slammed the WHO for drawing hasty conclusions and unfairly linking the death of the children to the alleged infirmities in the cough syrups without conducting a thorough test. Surprisingly, as the government has stated, WHO has, till now, refused to share any details as to how it arrived at the conclusion that linked the deaths to the cough syrups despite several reminders.
The hasty action of WHO is not acceptable, more so as it has failed to produce material to support the claims. India has earned the reputation of supplying excellent quality pharmaceuticals products all over the world. Its companies follow good manufacturing practices and are being regularly inspected by local authorities and even international authorities. If baseless charges, not backed by supporting material, are made against one Indian company it will damage the reputation of the entire industry.
India must take up the matter with WHO at the highest level. It should submit the findings of the tests conducted and demand the same from WHO. If WHO is unable to substantiate its claims then it should issue an unconditional apology and clear the drug manufacturer. Further, there must a defined process at WHO through which such alerts are issued. It must do so only after conducting acceptable preliminary tests and provide the results to the government of the originating country. In case of Maiden Pharmaceuticals it seems that WHO is trying to hide its inefficiency as it has failed to provide supporting material even though nearly three months have passed since it first sounded the alert. This is damaging for the whole pharmaceuticals ecosystem.