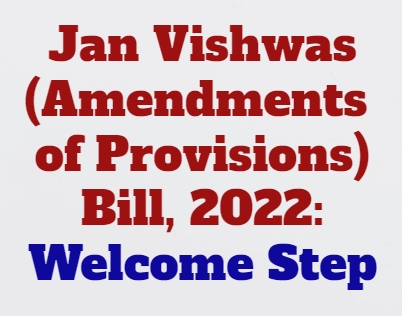 To "enhance trust-based governance for ease of living and doing business", the government introduced the Jan Vishwas (Amendment of Provisions) Bill, 2022 in Lok Sabha on Thursday. The Bill seeks to amend 183 provisions across 42 laws in a bid to decriminalize several minor offences and compound and rationalize penalties. The Bill was referred to a 31-member joint committee of the Houses for review and suggestions and the panel has been asked to submit its report by the first week of the second part of the Budget session of Parliament in 2023.
The NDA government has focused on making Indian laws simpler and better (although due to the hurry it sometimes displays in rushing bills through Parliament, several poorly drafted laws are also getting passed). This Bill is another step in that direction. There are thousands of provisions in Indian laws that have either outlived (as they are on the books since colonial times) their purpose or prescribe disproportionate punishment (like jail terms for minor offences). Further, there are several provisions that still remain on the statute books although they have been outlawed by courts (like Section 66A of the IT Act).
The present Bill will decriminalize minor offences in several Acts. For example, sending unpaid postal articles carried a jail term of up to two years under the Indian Post Office Act, 1898. This is being deleted. In other cases, the Bill will decriminalize offences but retain and even enhance the penalties. For example, giving false information to officers from the metrology department under the Legal Metrology Act, 2009 is now being made compoundable and an offender will be let off with a monetary penalty. In the last case, provisions that have remained on the books despite being struck down by courts will be removed by the Bill. Section 66A of the IT Act, which was struck down by the Supreme Court but has been used by police authorities nationwide to harass people, will be one among many such provisions that will now be removed.
This is a welcome move by the government. The Parliamentary panel must go through the Bill and suggest more amendments if it finds them in case the government has missed some other such provisions. Another good thing in the proposed Bill is that it will have a built-in clause that will enhance all penalties under the Bill by 10% every three years. This is an important provision as penalties in India are not enhanced in time and then when they are enhanced five times or even ten times after 10 or 20 years, it leads to public outcry and protests. In future, all laws that carry penalties for offences should ideally have such periodic enhancement clauses built-in.