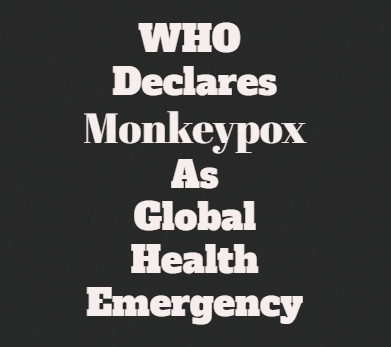 With monkeypox cases being detected with increasing regularity all over the world, the World Health Organization (WHO) has declared it as a global health emergency (GHE). 17000 people have already been affected by the virus in 75 countries. As WHO had delayed more than a month in declaring Covid-19 outbreak as GHE and was severely criticized when it became a pandemic, this time it has been proactive and cautioned people at an early stage. India has already reported four cases out of which one case in Delhi was detected in a person without any travel history.
There is no doubt that monkeypox is spreading in places it had not been previously detected. That calls for caution and appropriate response from governments worldwide. There is no need to panic but there also is no need to remain silent or inactive. The disease is known to have flu-like symptoms with skin lesions. But the problem is that these symptoms are detected a week or even 10 days after infection. Unfortunately, "currently there is no commercially available assay to detect monkeypox virus" (as per Centre for Disease Control & Prevention). The organization says that "laboratories should perform a site-specific and activity-specific risk assessment to identify and mitigate risks."
This makes it difficult to detect infection in early stage. The Indian Council of Medical Research (ICMR) has trained 15 research and diagnostic laboratories across the country for early detection of the virus. The ICMR notified that, "to help country's preparedness for Monkey Pox detection, 15 Virus Research & Diagnostic Laboratories across the country, which are geographically well distributed & strategically located, have already been trained in the diagnostic test by ICMR-NIV, Pune."
The Centre has issued guidelines which ask international travelers to take precaution and avoid being in contact with visibly sick persons or persons who have rashes on their skin or with dead or live wild animals. They have also been asked to avoid eating meat from wild animals or using products derived from wild animals from Africa. They have also been asked to avoid contact with contaminated material of sick persons like clothes, bedding or healthcare material and to approach the nearest health facility if they have fever or rashes or were in an area where monkeypox was detected or were near a person who had the symptoms. Kerala, where three confirmed cases have been detected till now, has issued additional guidelines to control the outbreak.
India has been reporting a spurt in fresh Covid cases. If monkeypox cases also multiply fast, there will be renewed pressure on the health infrastructure. Hence, it is necessary to take all precautionary measures to prevent a monkeypox outbreak without causing panic. It has been reported that smallpox vaccine is effective in preventing monkeypox infection. India should look at it as a preventive measure. Also, quarantine for people with even the mildest symptoms must be put in place.