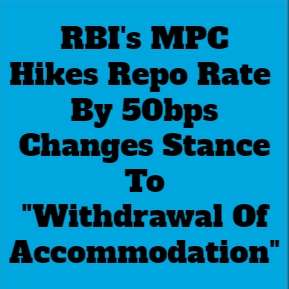 The Monetary Policy Committee (MPC) of the RBI raised the repo rate by 50 basis points to 4.90% (which means that the rates have been raised by a total of 90 basis points within a span of 36 days as it was raised by 40 basis points in May) and revised the inflation forecast from 6.7% earlier to 7.5% for the first quarter of FY23. Although a rate hike was expected, the MPC was forced to do so by a good percentage because inflation in Q1 is showing no signs of cooling. Experts had predicted a 35bps hike in the June meeting due to the off-cycle hike in May.
The RBI said that with the assumption that there will be normal monsoon and the price of crude for India will be at $105 per barrel, the inflation forecast was projected at 7.4% in Q2, 6.2% in Q3 and 5.8% in Q4 of FY23 and at 6.7% for the whole year.
The RBI also hiked bank rate from 4.65% to 5.15% and Marginal Standing Facility rate from 4.65% to 5.15%. It is expected that since inflation remains elevated, the RBI needs to frontload its action to tame inflation and might raise rates by another 60-90 basis points in this financial year. With this, the apex bank is expected to take key interest rates above the 5.15% mark they were ruling before the pandemic.
The RBI also announced the stance of "withdrawal of accommodation" started during the pandemic. As far as monetary policy goes, these are copybook steps by the central bank to fight against inflationary trends. As experts have pointed out, RBI has to frontload its actions so that it does not fall behind the curve (which many have pointed out that it did by delaying raising the rates).
But since the current inflation is happening at a time when consumer demand is subdued and is largely a cost-push inflation fueled by rising commodity prices and supply-chain bottlenecks, collaborative and simultaneous fiscal policy moves and government action is also needed. The government did its bit by reducing excise duty on petrol and diesel and making adjustments in export and import tariffs of many items but more is needed on that front.