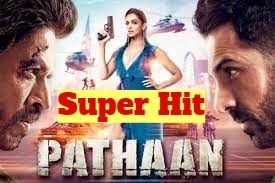 The King of Bollywood is back and how! Crossing all hurdles placed in its path by vested interests that had no interest in cinema, Pathaan has opened to rave reviews and has set the box office ringing like no other Hindi film has done in recent times. The first day collection in India was Rs 57cr and the second day Rs 70cr (the figures are higher if the worldwide collections are accounted for). These are phenomenal numbers and are likely to make Pathaan the highest grossing Hindi film in history.
This is a tight slap on the face of those who tried to divide the audience along religious and other lines by going after Shah Rukh Khan (for being a Muslim) and Deepika Padukone (for lending support to JNU students and thus being a 'member' of the so-called tukde tukde gang), the main stars of the movie. Those who tried to slam the movie for reasons other than cinematic even protested against the colour of the bikini Deepika wore in a song and gave it a communal colour.
The 'boycott Bollywood' and 'boycott Pathaan' movements have a single point agenda. They are trying to censor films according to what they think is right. They pick up any issue and term it anti-Hindu or anti-nationalist and then go after the film and its actors. Prime Minister Modi was forced to comment on this issue when he asked BJP leaders and workers not to speak against films in the recently-concluded National Executive meeting of the party. But it is doubtful whether the loudmouths in the party, or the Hindutva elements in other organizations, will listen to him.
But the general public has replied in an emphatic manner by making Pathaan a success. They have replied to these elements that they go to watch films for its entertainment value and will not give a communal colour to the colour of the bikini that an actor wears. They have strongly shown that demonizing actors for political purposes will not carry any weight and they will ignore the calls to boycott such movies if they provide wholesome entertainment.