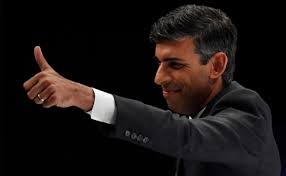 Much has been made about the Indian origins of UK's new Prime Minister Rishi Sunak. Different people have been drawing different conclusions about him being the first man of colour, the first non-Christian and the youngest in 200 years to get the post. But the fact is that Sunak is a British citizen and has become the Prime Minister through his capabilities and hard work. That he could get the top post is a tribute to the non-discriminatory and inclusive society in Britain where talent and work are recognized as the top contributing factor for a person's progress, excluding all else like origin, religion and colour.
Politically for India, it hardly matter if Sunak is a Hindu or a person of Indian origin or is the son-in-law of Infosys founder N R Narayan Murthy. These, or any other factors, are not likely to guide Sunak in his dealings with India. The Prime Minister of any other country will be solely guided by the interests of his or her own nation. Yes it is a matter of pride that a person of Indian origin has risen to such a high level in a country which ruled over India for close to one hundred years but apart from that, India cannot expect and concessions or undue favours from Sunak.
Prime Minister Modi, in his congratulatory message to Sunak, expressed the hope that the 'living bridge' of UK Indians will help in transforming India's historic with Britain into a modern partnership. But concerns remain. The Diwali 2022 deadline for a trade deal has already been missed, mainly due to the fact that the UK is witnessing political turmoil for the last few months. Hence, it is required that political stability returns to the UK under Sunak for relations to improve between the two countries.