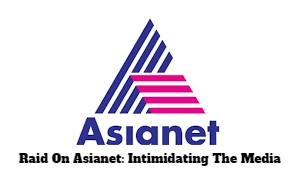 Governments, whether of the Right, the Left or the Centre, have a pet peeve - the media. This stems from the fact that governments cannot tolerate criticism and instead of viewing the media as the fourth pillar of democracy, view it as an adversary. Close on the heels of the Centre's action against the BBC for producing the documentary on the Gujarat riots that criticized the then Gujarat government headed by Narendra Modi, the Kerala police raided the offices of Asianet, a regional news channel in Kerala that is often critical of the Left front government in the state. While the Left had criticized the Modi government action against BBC, it is clear it was looking for an opportunity to move against Asianet.
The 'opportunity' was provided by a CPM-supported independent legislator in the state assembly who lodged a complaint alleging that the news channel was publishing misleading information in a case of child abuse. Before the police action, activists of SFI, the student's wing of the CPM, had stormed into the channels offices and indulged in acts of vandalism. Clearly, the twin acts were not to take action against the channel for publishing misleading reports - they were to intimidate the media and let Asianet know that criticism of the government will not be tolerated and more such actions, on real or perceived 'grievances', will follow if it did not bend.
If the channel had transgressed, the law provides for many sections under which it can be prosecuted and penalized. But vandalism and police raids are not legal action, they are intimidation. With executive overreach being the norm in these times, the courts and the media have become the only forums that the citizens can turn to in times of distress. The Left government in Kerala had also sought to amend the Kerala Police Act in 2020 to curtail freedom of speech and browbeat the media. The order was withdrawn after protests. While the Leftist parties take pains to show that they are pro-people and respect democratic institutions, when it comes to the crunch, in some matters they are no different than the BJP, the party they love to hate.