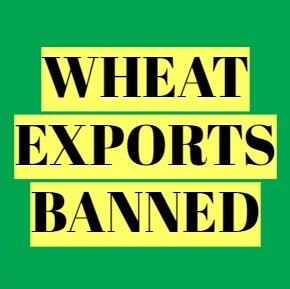 The government has banned wheat exports from India with immediate effect in the "interest of national food security". Only those export orders for which letters of credit have been opened before the issue of the notification will be allowed. Apart from this, export would be allowed on case-to-case basis to countries which request the government for wheat. This is a volte-face by the government which had, even two days earlier, signaled a big push to export wheat and till last week denied that it was thinking about banning wheat exports. In fact, food secretary Sudhanshu Pandey had categorically said that "there's no curb and the government is enabling additional market access to exporters." Also, during his three-nation European visit, Prime Minister Modi had said that India was stepping up to feed the world in difficult times. So what happened in these 2 days for the government to announce this sudden, knee-jerk (to some economists) decision?
Since the middle of March, or even earlier, three things were well known. One, the severe heat wave had caused withering and stunting of the wheat crop and production was likely to be well below the expected, record 111 MT. Two, private traders were busy procuring wheat at prices above the MSP as the export market was good due to supply constraints from Russia and Ukraine. Three, some farmers would hold back stocks in anticipation of further price rise and so would traders who indulge in commodity speculation, reducing the overall availability of wheat in the domestic markets. The government knew that of the reduced crop, a huge amount would be cornered by private traders and its own procurement would lag behind target. It also knew that if prices stayed above MSP, the domestic market will feel the heat. All these three things happened - the government procurement is low as farmers are not selling to it at MSP and do so only if there are no private buyers and the rise in prices has added to food inflation as flour prices have shot through the roof.
Since these things were known and since the government was repeatedly denying that it was thinking of banning exports, it was believed that there would be a calibrated response from the government. But after the ban, sources are putting out the theory that the ban was put in place to prevent "price manipulation" by Chinese traders and to ensure that Indian wheat was used fairly to address global needs and not by manipulative business cartels to make profits. But not all are convinced. Renowned agriculture economist Ashok Gulati told the Indian Express that the government "could have gradually filtered exports rather than resorting to a knee-jerk ban. This could have taken the form of a minimum export price (below which shipments cannot take place) or a tariff." The ban should be a temporary measure for the government to procure wheat at MSP to meet its target. Later, it should rethink and allow exports after putting checks in place to ensure price manipulation does not happen in the overseas markets and the domestic prices are kept on a leash.