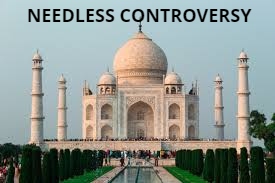 The Allahabad High Court has done well to nip the Taj Mahal mischief in the bud. By rejecting the plea that asked the court to order the Archaeological Survey of India (ASI) to open the 22 locked rooms in the world heritage structure and one of the old wonders of the world, ostensibly to find out whether idols of Hindu Gods were hidden there, the court has done a signal service to the nation as it will, perhaps, deter others from filing such frivolous PILs.
The Court was furious at the petitioner. It asked how he had an interest in the issue and how was he qualified to raise it. It also pulled up the petitioner's lawyer for filing the PIL in a "casual" manner. The court said "the issue that can be taken up by the court should be justiciable, based on the principle of justiciability". The court also asked the petitioner to do proper research on the subject or leave it to historians. It also said that "tomorrow you will come and ask us to go to chambers of honourable judges? Please don't make a mockery of the PIL system".
It is not as if these rooms are never opened. The ASI has confirmed that the locked rooms are opened once in a while for maintenance and kept closed only for security reasons. If there were idols inside, they would have been detected long ago. This is nothing but an attempt to create needless controversy. BJP MP Divya Kumari, who belongs to the Jaipur royal family, has also claimed that the land on which the Taj Mahal stands belonged to her family and was acquired by Shah Jahan but has produced no documents to verify the claim.
It is clear that Hindutva elements are bent upon erasing India's past, especially the period when it was ruled by Muslim rulers, including the Mughals. But they do not realize that a nation's history is something which can never be erased and should never be erased as it teaches us many things about the nation and its people. Not satisfied with targeting religious places, these people are now after the magnificent structures that were created in that era and that continue to wow people across the world even today. This must stop.