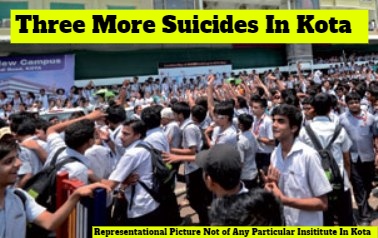 Three more students allegedly committed suicide in Kota on Sunday, once again turning the spotlight on the town in Kota which is famous as the tutorial capital of India. Two of the students were from Bihar and the third was from MP. Two of them were preparing for NEET and the other JEE. Although no suicide notes were found, it is being reported that a can of rodenticide was found in the room of one of the students.
Over the years, Kota has also earned the dubious reputation of being the suicide capital of India. More than1.5 lakh students from diverse backgrounds descend of the city to prepare for the competitive exams for institutes that can take in only a few thousand of them. There is immense pressure to perform which results in heavy stress. Some students take the extreme step as they are unable to bear the pressure. Although all reputed institutes have trained counsellors to guide students when they face such stress or other mental issues, there is a conflict of interest in this as the pressure to perform comes from the institutes themselves who categorize students into star performers (who get extra facilities) and more such categories. This always works against slow learners or those who cannot cope up due to various other reasons.
While the institutes alone cannot be blamed for the suicides, they have a major hand in pushing the students to take the final step by indulging in unfair practices (the list of such practices is long and includes bribing, poaching and segregation) and not caring for a more holistic psychological and academic growth of the students. Is it time now for the government to step in and regulate these institutes and issue guidelines for transparent standard operating practices? One knows this question is raised every time a student commits suicide in Kota but for how long will these teaching shops be allowed to conduct their business in an unregulated and opaque manner?