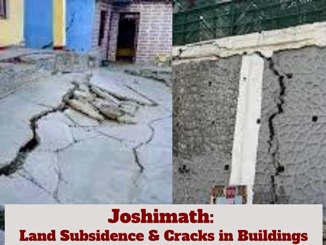 With Prime Minister Modi taking a personal interest in the developments in Joshimath in Uttarakhand and the PMO calling a series of meetings with experts, the entire Central and state machinery is working overtime to provide relief to the residents of the hill town that is 'sinking'. A team of National disaster response Force (NDRF) has been rushed to Joshimath where four state disaster teams are already deployed to handle the situation. With several houses developing cracks and subsidence of land taking place in some areas, residents are in a state of panic. The government has to ensure that they remain safe and all that is needed to be done to control the situation is done. PM Modi has already assured Uttarakhand chief minister P S Dhami 'all financial and technical support'.
The Centre has initiated a discussion with experts from IIT-Roorkee, National Institute of Disaster Management (NIDM), Geological Survey of India (GSI) and the Wadia Institute of Himalayan Geology. It has also sent a team comprising all four members of National Disaster Management Authority (NDMA) and secretary, border management to visit Joshimath on Monday to assess the situation in consultation with the above four institutions and the Central Building Research Institute. The government is looking to respond to the crisis in all possible ways including responses in the short, medium and long term. It should consult leading global experts if necessary.
While it is necessary to provide rescue and relief to the affected citizens now, it is more important to identify why the problem has occurred and take corrective action for the future. For, as per central experts, as of now only 'a strip of land with a width of 350 metres' has been affected. But if the problem continues, the entire town or a large part of it,will sink. Already, cracks are reported to have developed in the Shankracharya math in the town. Hence, short term rescue, relief and repair operations are alright but the problem needs to be addressed at the root.