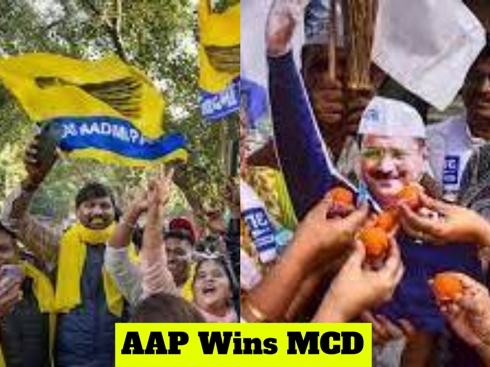 The Aam Aadmi Party (AAP) has wrested the Municipal Corporation of Delhi (MCD) from the BJP which was in control of the civic body for the last 15 years. Till the last reports came in, AAP had won 126 seats and was ahead in another 8 while the BJP had won 97 seats and was ahead in another 6 seats. The Congress, as expected, came a cropper and was a poor third with just 10 seats.
The results, however, were not in line with the exit polls predictions which had showed a sweep by the AAP. In fact, in the first leads in the morning, it seemed that the BJP would win and prove the exit polls wrong. But as the day progressed, AAP surged ahead and clinched a simple majority. The poll of exit polls showed that AAP would win between 151-167 seats and the BJP between 74-92 seats. That would have been a landslide victory for AAP. But the results show that the BJP gave a tough fight and will be a formidable opposition as it has enough numbers.
AAP turned the BJP's oft repeated promise of a 'double-engine' government (BJP government both at the Centre and in the state for better development) to its favour in Delhi by asking people to vote for it in order to get the maximum benefit of government schemes and municipal services by having the MLA and the councillor from the same party. It also highlighted the fact that the MCD under the BJP was steeped in corruption and inefficiency. The people of Delhi, at least the poorer section of the society that has benefitted most from the freebies offered by the Delhi government, seem to have listened to Arvind Kejriwal and AAP will now have complete control (except police services) over Delhi.
The BJP could not shake off anti-incumbency despite using bigwigs in the campaign. It also suffered because it did not have a local leader to match Kejriwal's charisma. Finally, it seems the people of Delhi decided to wield the broom on the BJP in a bid to rid the city of the 'mountains' of garbage (a fact which AAP repeatedly highlighted in its campaign) that are a health hazard and an eyesore in many places in the capital.