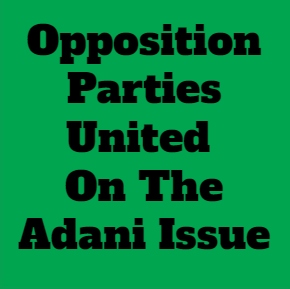 There has been a positive spin-off for Indian democracy in the troubles being faced by the Adani group and Gautam Adani. It has brought the opposition parties in India together like nothing has in recent past. A meeting was called by Congress chief Mallikarjun Kharge on Thursday to work for Parliament floor coordination between the parties. 20 parties were invited and most chose to attend. Significantly, Sudip Bandopadhyay and Derek O'Brien, representatives of Trinamool Congress (TMC) also attended the meeting, the first time in four years that the TMC has sent its leaders to any such opposition meeting. TMC also decided to send two MPs, one each from the Lok Sabha and the Rajya Sabha, to the joint opposition protest at Gandhi statue in the Parliamentary complex on Monday.
After the meeting, the opposition parties stalled parliamentary proceedings demanding a probe in the Adani controversy either by a joint parliamentary committee or a panel set up by the Supreme Court. Hence, both Houses of Parliament were adjourned for the day without transacting any business. The opposition has also decided to make the Adani issue the sole issue after the Motion of Thanks to the President's address on Monday. They have decided that they will not provide the government an escape route by bringing up other issues and will force it to discuss the Adani issue.
This is a good decision taken by the opposition parties. Although parliamentary proceedings cannot be stalled indefinitely, the Adani controversy is very important and the people have the right to know what went wrong and whether the NDA government is guilty of providing undue favours to the Adani group. The nation also needs to know whether regulators did their work efficiently. Also, there are matters of corporate governance and accounting malpractices that need to be debated on and if necessary, laws need to be amended. These questions need to be raised by the opposition parties in Parliament and the government needs to provide the answers. The opposition parties will have to strike a balance in allowing important house work to go on and yet force the government to address their queries in the Adani group matter. They must stand united on this issue.