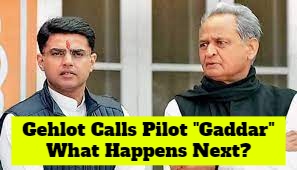 After senior Congress leader and Rajasthan chief minister Ashok Gehlot calling Sachin Pilot a 'gaddar'(traitor) several times during the course of an interview with ndtv.com, even the pretence of a working relationship between the two has gone. It never was a secret that Gehlot and Pilot were not on the same page and the party had regularly brokered peace between them and kept things under false control. But with Gehlot now openly calling Pilot a 'traitor', just days after Gujjar leader (Pilot belongs to the Gujjar community) had threatened to disrupt Rahul Gandhi's Bharat Jodo Yatra in the state if Pilot was not made chief minister, it remains to be seen how Pilot responds. Ndtv.com reported that its efforts to contact Pilot did not materialize till the time Gehlot's interview was published.
Gehlot also clearly said that the party high command will never make Pilot the chief minister mainly because he is a 'traitor' and does not have the support of even 10 MLAs. It is true that despite his best efforts, support for Pilot is dwindling as the canny Gehlot is consolidating his position in the state. Apart from the high command's promise to him that 'his time will come' Pilot has little claim to the top post. But if one sees the larger picture, the Gandhi's are also miffed with Gehlot for getting MLAs loyal to him to snub the central observers when he was to contest the polls for the party president's post and the high command was looking for his replacement in the state. If Pilot is a 'traitor' according to him, Gehlot is also not as 'loyal' as he was perceived to be.
This issue is definitely going to escalate as Pilot is unlikely to take this open insult lying down. It would be interesting to see how the Congress high command responds. On one side is a veteran leader who has angered the Gandhi family recently but who commands the loyalty of an overwhelming majority of the MLAs who can revolt against the party on his behalf and on the other side is a young leader who worked tirelessly to get the party a majority in the last elections and who has been promised the top job at the right time. It seems the Congress high command will have a tough time brokering a truce between them this time.