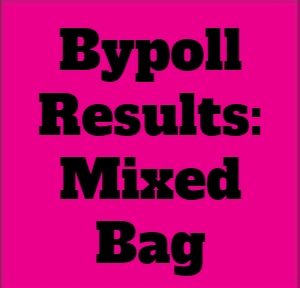 Apart from the assembly elections in Tripura, Nagaland and Meghalaya, bypolls were also held for 6 assembly seats in 5 states on February 27 and the results were announced today. The results are a mixed bag with gains and losses for both the BJP and and the Congress. But as the Congress wrested two important seats from the BJP and the TMC, its performance was relatively better.
In Pimpri-Chinchwad in Pune, the BJP retained the seat when its candidate Ashwini Jagtap beat NCP's Nana Kate by over 36000 votes. But the BJP won comfortably only because the opposition votes were divided as apart from NCP, Rahul Kalate of the Shiv Sena (UBT) stood as an Independent and cut into Kate's votes.

But in the BJP/RSS bastion of Kasba in Maharashtra, the BJP suffered a humiliating loss when Congress' Ravindra Dhangekar wrested the seat from the saffron party. BJP has not lost from here in 30 years and this loss is going to rankle.
The Congress also wrested the Sagardihi seat in West Bengal from the TMC when its candidate Bayron Biswas won by a margin of 22980 votes. The TMC had won the seat in 2021 by over 50000 votes.
In Ramgarh in Jharkhand, BJP-supported AJSUP candidate Sunita Choudhary won by 21970 votes beating her Congress rival. This was the first loss for the JMM-Congress alliance after they formed the government. The seat was previously held by the Congress.
In Erode (East) in Tamil Nadu, the Congress candidate Elangova won by over 66000 votes, retaining the seat the party had won in 2021.
In Lumla in Arunachal Pradesh, the BJP retained the seat when its candidate Tsering Lhamu won the seat previously held by her late husband LA Jambey Tashi whose death had necessitated the by-election.
For the BJP, the loss of Kasba in Maharashtra is a big setback. Since the party is part of the Eknath Shinde government in the state, a loss in a seat it has won for 30 years now sends the wrong signal.
For the Congress, the win in Kasba is a massive achievement. The win in Sagardihi is a boost in West Bengal, a state where it is rapidly losing support. But its loss in Jharkhand is equally disturbing for the party.
Further, with its strong hold on West Bengal politics, the TMC will have to ponder what went wrong for it to lose in Sagardihi.