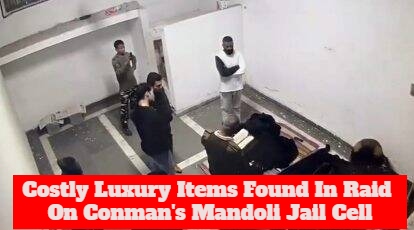 The surprise raid conducted in the prison cell of conman Sukesh Chandrasekhar in Mandoli prison in Delhi has yielded many luxury items including three pairs of costly branded jeans and a pair of Gucci slippers worth Rs 1.5 lakh. It is obvious that the convict is enjoying the same level of luxury living he is used to even in captivity. Earlier, there were reports (and the Delhi police also alleged the same in the chargesheet) that the conman, who is in jail for having duped Rs 200cr from the wife of former Ranbaxy promoter Shivinder Singh, paying 'salaries' of crores of rupees a month to the jail staff to have an entire barrack to himself and get whatever he wanted. An inquiry was also instituted against several Tihar jail officials for receiving money from Chandrashekar.
It seems that the shift from Tihar to Mandoli did not have much effect on Sukesh's fancy lifestyle inside prisons. The latest discovery shows that he has succeeded in bribing the right people in Mandoli prison too and is getting what he wants. It also means that apart from slippers and jeans, he is also getting mobile phones and cash to get the luxuries of life in jail. While it is surprising that a prisoner under watch for bribing jail staff could do so once again, getting things inside jail for a price is nothing new in India and all wealthy prisoners, especially those jailed for economic offences, usually get any and everything they want, including liquor and home or restaurant food and are allowed to meet any number of people daily in gross violation of rules.
Despite strict rules and security (including multiple permissions and entries in log books and CCTV cameras), jail staff are willing to take risks and flout rules if the 'compensation' is good. There is huge corruption in Indian jails and the government must think of ways to root this out.