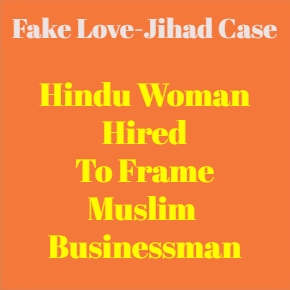 The news item that two persons had hired a Hindu woman to allege that a Muslim businessman from Kasganj in UP had falsely presented himself as a Hindu man and had 'raped' her after promising to marry her was extremely disturbing. Although personal enmity cannot be ruled out in the instant case, it showed how the Hindu right wing will stoop to any level to prove that the so-called love jihad exists and that Muslim men woo Hindu girls by impersonating Hindu men, even after crime statistics have proved that there is no organized conspiracy of love jihad.
After the woman lodged the rape complaint and recorded her statement before a magistrate, she refused to go for a medical test when she was informed by the court that she might be jailed if her allegations were proved to be false. Scared, the woman rescinded her allegations and informed the court that two persons had hired her to make the allegations. Prince Qureshi, the alleged 'rapist' was booked under IPC sections 376 (rape), 323 (voluntarily causing hurt), and 506 (criminal intimidation) on July 16. But after the woman disclosed the true facts, the police have booked Aman Chauhan, 34, and Akash Solanki, 28, and the woman who goes by the name of Radha under charges of criminal conspiracy.
Although Aman Chauhan's Facebook profile shows him as 'district vice-president of the BJP youth wing', the BJP district president K P Singh said that he had been removed from the party. But the very fact that the two men, along with more than 200 workers from right-wing organizations, had staged a demonstration at Ganjdundwara police station regarding the 'rape' matter shows that despite the police saying that Qureshi was perhaps being framed for an old financial dispute between the parties, the involvement of Hindu right-wing cannot be ruled out.
The case shows how it is unfair and dangerous for the Hindu right-wing to jump into all cases of inter-religious marriage and allege that it is love jihad. Apart from the fact that boys and men from the minority community are being targeted unfairly, in the instant case it also shows that some people are taking undue advantage of the charged atmosphere to settle scores with Muslims. The police has to be on guard and ensure that they investigate the matter properly (as was done in this case) before taking action on such complaints.