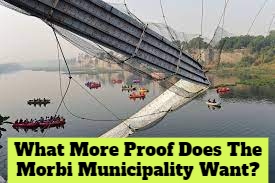 In an act of stupid defiance, the BJP-controlled Morbi municipality has refused to reply to the show-cause notice issued by the state urban development department asking why it should not be taken to task for the collapse of the pedestrian bridge in the town that led to the death of 141 people and more than 180 suffered minor and major injuries. The municipality has said that since the show-cause notice has been issued without any 'proof', there is no need to reply to it.
What more proof does the municipality need than the collapse of a bridge that was handed over to a private party for repairs and upkeep? The repairs were done perfunctorily (a forensic examination reported that anchors were broken, cables were rusty and bolts were loose), there was no periodic inspection by the municipal authorities to check if the work was being done according to agreement, the bridge was opened before the decided date (to cash in on the festive season), there was no final inspection to test the load factor and finally, tickets to stroll on the bridge were issued to many more persons than the bridge could accommodate, leading to its collapse. There were irregularities galore and yet the municipality has the temerity to ask for proof from the urban development department.
The civic body has said that the agreement for the repairs of the bridge was signed when the body was controlled by the Congress. Even if that is correct, the present administration cannot escape the responsibility of ignoring all safety parameters and in a sense, taking their hands off the bridge. Was it not their duty to see if the bridge was being repaired properly? Was it not their duty to ascertain the load factor before it was reopened? Did they not think it fit to set a limit on the number of tickets to be issued to prevent overcrowding? All this was not done when the Congress controlled the body.
The Gujarat government must take this act of defiance seriously and dissolve the civic body without further delay otherwise it will send a wrong signal. In fact, the delay in taking action against the body is already is already damaging the reputation of the Gujarat government which is seen as protecting local BJP leaders.