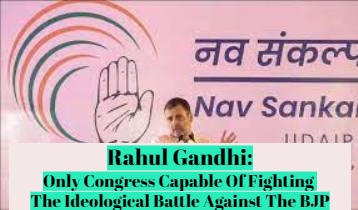 Rahul Gandhi was at his combative best at Udaipur. In his speech at the end of the three-day chintan shivir, he asserted that only the Congress was capable of leading the battle against the divisive and communal politics of the BJP and the regional parties did not have it in them to do so.
Gandhi said that "the regional parties cannot fight this battle because this is an ideological fight. BJP talks about Congress, its leaders, its workers, but not about any regional party. That is because they know that regional parties have a place, but they cannot defeat BJP because they don't have an ideology. They have different approaches, we have a centralized approach."
What Gandhi said is true to a certain extent as the regional parties were born to take up the issues of the states they were formed in and have only now, given their victories over the BJP in their respective states, started to flex their muscles and show a desire to spread their wings in other states. But it is also true that these parties have defeated the BJP in their states by going against its divisive and communal politics and thus, they too have an ideology that can counter the BJP.
Further, given the precarious state the Congress is in electorally, in almost 80 percent of the states it needs to tie up with regional parties if it seriously considers itself to be a contender to lead the battle against the BJP. If Rahul Gandhi keeps on discounting the efforts of the regional parties in battling against the BJP, he will keep narrowing the choices before the Congress. That will hurt the party in its bid to revive itself.
Perhaps Rahul Gandhi was trying to take the fight to the regional parties instead of the BJP when he made the above speech as many of them have recently started saying that the Congress does not have the necessary will or the leadership to take on the BJP. In fact, West Bengal chief minister and TMC supremo Mamata Banerjee and Telangana chief minister and TRS leader K Chandrasekhar Rao have been trying to unite the opposition minus the Congress.
But Rahul Gandhi must realize that political alliances are need-based and the Congress needs the regional parties more than they need it now. It has been wiped out in many states and if it has to claw back, it has to stitch up strategic alliances with smaller parties. With his speech in Udaipur, Rahul Gandhi has made it difficult for the Congress to look for alliance partners.