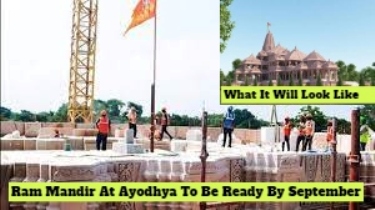 Shree Ram Janambhoomi Teertha Khsetra Trust has announced that the Ram Temple at the birthplace of Lord Ram in Ayodhya will be ready by September 2023 (nearly four months ahead of the original deadline of January 2024). It said that with 70% work on the temple completed, it hopes to finish the pending work by September. It is likely that the Ram Temple will be dedicated to the nation and opened for the public in a grand ceremony on any auspicious day thereafter, maybe during the week leading to Dusserah or on Dusserah day, which falls on October 24 this year.
It is obvious that the Ram Mandir at Ayodhya is going to be the centrepiece of BJP's poll campaign in the 2024 general elections. The party has had the construction of the Ram Temple at Lord Ram's birthplace in Ayodhya as part of its agenda, and election manifestos, for many years now. With the long drawn out case in the courts coming to a conclusion with the decision of the Supreme Court to give the exact place where the now-demolished Babri Masjid stood to Hindu parties, the construction of the Ram Temple is a political victory for the BJP and it is going to flog it to consolidate Hindu votes.
With public memory being short, the other main point of the BJP manifesto - that of abrogating Article 370 - is now largely forgotten as it was done in August 2019, just a few months after the party won a resounding second term in 2019. With elections likely in April/May 2024, the opening of the Ram Temple in October 2023 or thereafter will give a huge push to the BJP campaign. Apart from the focus on development schemes, the good management of the Covid situation and economic growth, the timely construction of the Ram Temple will be used by the BJP to further consolidate the Hindu vote. For, it will be one thing that the opposition parties will not be able to criticize.