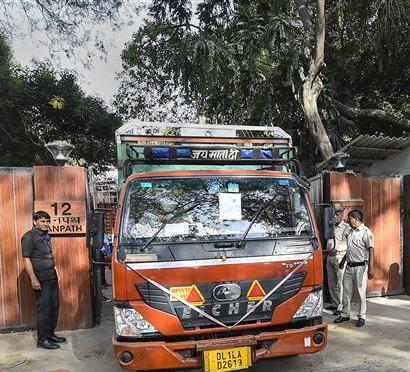 Is Chirag Paswan is playing the victim card after being thrown out of the house that was allotted to his father late Ram Bilas Paswan? He said he felt cheated ("dhoka hua hai") and humiliated in the way he was thrown out of the house with household goods kept on the road. Obviously if what he said was true - that those who came to evict went all over the house including beds and pictures of senior Paswan with their shoes and slippers on - then it was insensitivity and highhandedness on part of the eviction team. Paswan also said that he was ready to vacate the house the house a day before the March 20 deadline but he was stopped and given an assurance. This is a serious allegation. Since he has not clarified who gave him what assurance, the government must probe what exactly happened.
It is a fact that those who are allotted government bungalows often refuse to vacate them and do not pay the paltry rent too. They are not entitled to stay if they lose their office or if their family member who was a minister dies or loses his or her office. There is huge shortage of government bungalows and sometimes even senior ministers have to stay in flats meant for MPs or have to make their own arrangements. Earlier, the government was lax in recovering the bungalows. But the NDA government has made its intentions clear a long time back. It will not tolerate people overstaying when they have been served an eviction notice and will evict them by force, if needed. That is the correct response against those who try to forcibly occupy government bungalows.
But in Chirag Paswan's case, if he was stopped from vacating and given an assurance, the subsequent eviction and the manner of the same was definitely not kosher. But one thing is not clear - why did Chirag not call the person who had stopped him from vacating and assured him when the eviction team arrived at his house? And if he did, why did he not make public what he was told then? Also, the other visuals from the bungalow when the eviction was being carried out show trucks laden with household goods going out in orderly manner, suggesting that things were being done properly. So is Chirag Paswan trying to create a controversy where none exists? The Directorate of Estates must reply to his allegations to set the record straight.