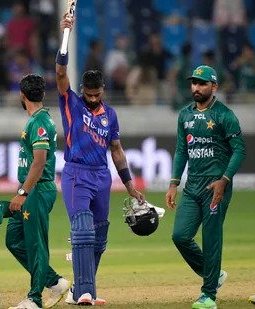 Last time when India played Pakistan in Dubai, Shaheen Afridi bowled a memorable spell of pace bowling to destroy India's batting after which Md Rizwan and Babar Azam did not allow Indian bowlers to get on top and took their team home. But yesterday, in the derby match in the Asia Cup at the same stadium, Indian bowlers stuck to their plan and were backed by good fielding to restrict Pakistan to a sub-par 147. That India found it difficult to get to that score is another story but the bowlers did their job commendably.
The way the wily Bhuvneshwar Kumar (4/26), Hardik Pandya(3/25) and Arshdeep Singh(2/33) bowled it became very difficult for the Pakistani batters to get them away. There were very few balls that gave Md. Rizwan any room to launch an attack. Indian bowlers also used the short ball well, keeping the Pakistanis on the defensive. Both Babar Azam and Rizwan perished as they could not control their shots against the rising ball.
But the Indian top order failed once again. In Afridi's absence, it was the turn of debutant Nassem Shah to torment the Indian batters. He bowled consistently over 140 kmph with an excellent line. K L Rahul had no clue about the ball which took an inside edge to his middle stump. Kohli was dropped in the slips off the next ball. Rohit Sharma and Kohli scratched around uncomfortably and it was left to the middle order, Jadeja (35) and Pandya (33 n.o.) to take India home. Pandya was named Player of the Match for his all-round show.
India must now give a serious thought as to what it will do. The top order needs immediate attention. Being three down in no time in T20 means half the match is lost. There are many youngsters who should have been tried. Now, with the T20 World Cup coming ahead, it will be a difficult task for the selectors. But it needs to be done to make the team stronger.