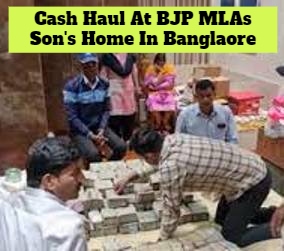 The Lokayukta police in Karnataka, alerted by a tip-off, arrested V Prashant Madal, the son of BJP's Channagiri legislator K Madal Virupakshappa (who is also the chairman of the Karnataka Soap & Detergents Ltd) on Thursday while accepting a bribe of Rs 40L in his father's office on Crescent Road in Bangalore. Prashant works as an accountant with the Bangalore Water Supply and Sewerage Board. Later, the Lokayukta police raided his home and found unaccounted cash of Rs 6cr. Another Rs 1.75cr was found at his office. Virupakshappa is untraceable and has reportedly applied for pre-arrest bail.
This is an embarrassing incident for the BJP which adopts a holier-than-thou attitude in matters of corruption and claims to have a zero tolerance policy against the menace, especially as assembly elections are due in Karnataka later this year. It has been reported that the bribe was demanded (Rs 81L in total) for a tender. This proves that the BJP has not been able to stamp out corruption in states where it rules. The politician-bureaucrat-contractor nexus continues to flourish in all states, even in those ruled by the BJP, and people still have to pay bribes to get contracts.
As recently as in the campaign for the Meghalaya assembly elections, the BJP had said (despite being an alliance partner in the outgoing government) that chief minister Conrad Sangma ran the most corrupt government. But with the disclosure in Karnataka, the BJP is not best placed to throw muck at others. The party had faced corruption issues in the state earlier too when the Reddy brothers were accused of corruption in the illegal mining scam in 2011. Yet the party had given a ticket to Gali Somasekhara Reddy (who was also an accused in a cash-for-bail charge) in the 2018 elections. Hopefully, this time the party will expel Virupashkappa and let the law take its own course.