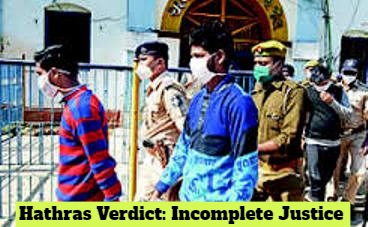 A special SC/ST court in Hathras in UP has convicted the main accused, Sandeep, in the headline-making 2020 murder case of a 19-year-old Dalit girl in Chandpa village near Hathras town. Sandeep was held guilty under various sections of the SC/ST Act and for culpable homicide (Sec 304 of IPC), but as the judge said "not rape", and sentenced to life imprisonment. But surprisingly, Ravi, Lav Kush and Ramu, the three other accused who were named by the girl in her dying declaration before a magistrate, were acquitted of all charges. Also, as the girl's family had alleged that she was gang raped, there was no clarity on this.
The Hathras case, despite being in the limelight, has been marked by all kinds of irregularities. Although the girl's body was found with multiple fractures and deep gashes on body and tongue which should have raised doubts of sexual assault, it was hurriedly and secretly cremated in a field near her house. The family alleged that they were forced to conduct her last rites. The investigation was conducted in a manner that showed that the administration was bent on hushing up the case. Both the Supreme Court and the Allahabad HC had expressed displeasure at the state of affairs.
Now the court's verdict clearly proves that the prosecution failed to get the other three, named by the dying girl as her assaulters, convicted. This is clearly a failing on the part of the investigating team. The girl's family has rightly said that this is not justice. Their lawyer has said that they will appeal against the verdict in the high court.
This is a very disturbing verdict from the special court. But the fault lies with the prosecution that failed to prove charges against the other three accused despite the fact that the CBI had conducted an inquiry and filed charges under against all four under Section 376-D(gangrape), 376-A (rape and inflicting injury to cause death), 302 (murder) and 34 (criminal act done by several persons). Clearly, this is incomplete justice.