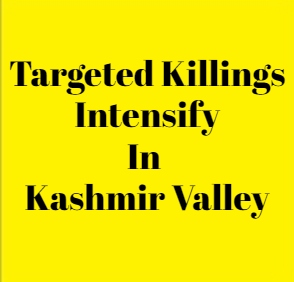 In a space of three days, three persons were killed in targeted killings in Kashmir proving that since the security forces have not come up with a concrete and effective plan to stop these killings the miscreants are getting bolder and striking at will at the so-called 'outsiders' across the state.
In the first of these latest killings, Rajni Bala, a Dalit school teacher who was posted in a government school in Kulgam district was killed on May 31. Then, on June 2, Vijay Kumar Beniwal, a bank manager from Rajasthan was killed in his office at the Ellaquai Dehati Bank (an associate of SBI) at Kulgam. In a separate incident, Dilkhush, a brick kiln labourer from Bihar was shot dead at Magraypora in Chadoora in Budgam district on Thursday evening, in which another labourer from Punjab was injured.
That these killings are the handiwork of terrorists who are bent on creating a situation where all 'outsiders' who are either residing in the valley, are posted there for work or visit it for business or work is clear. Through these targeted killings of so-called non-Kashmiris, the terrorists are sending out a clear message - that these people are not welcome in the valley. It is in a major part a counter to the change in land laws after the abrogation of Articles 370 and 35A through which restrictions for non-Kashmiris in purchasing land in the valley have been eased.
The terrorists want to create a fear psychosis to prevent non-Kashmiris (which also means non-Muslims as Kashmiri Pandits are also being targeted) from even thinking about settling in the valley using the eased land laws. They are bent on keeping the valley the exclusive preserve of Kashmiri Muslims and are using these terror tactics to scare away potential Hindu settlers. The message being given out is that if they can be targeted and killed despite the presence of the security forces in huge numbers, the situation will get worse for them once the security is reduced.
The J&K administration and the security agencies are not able to stop these killings for several reasons. First, no known groups are claiming responsibility. Second, they are being carried out by two or three persons with small arms which makes it difficult to detect them. Third, since small groups are carrying out these killings, not much is known about the planning and informers of security agencies are not coming up with any information. Fourth, since the non-Kashmiris are spread out at various locations, it is almost impossible to track each of them and provide individual security. Lastly, it is always difficult to prevent such hit-and-run guerrilla tactics by terrorists.
The J&K administration has announced a new strategy to prevent such killings. It has decided to keep an eye on local trouble makers since it is clear that such killings do not need any sophisticated arms or training and these local youths are being involved to carry them out. Also, last month LG Manoj Sinha had said that Kashmiri Pandit staffers will be moved to safer districts. While the former is good strategy as the involvement of local youth or those from neighbouring areas cannot be ruled out in these killings as terrorists are using foot soldiers that are not on the radar of the security agencies, the latter is not as in the face of such hit-and-run tactics, no district can be considered safe. Unless a few such killings are prevented and the culprits arrested before carrying out their act through stricter policing, the message will not go down that the forces have got the measure of these killers. Till then, more such killings will take place as the killers are getting bolder by the day.