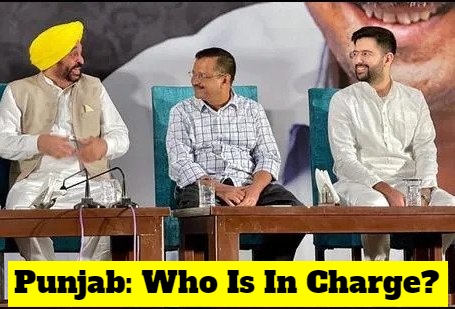 The creation of a temporary advisory panel, led by AAP MP Raghav Chaddha, to assist Punjab chief minister Bhagwant Mann, is rightly being viewed by the opposition parties in the state as interference in the governance of the state by the party high command. The opposition, which was already charging that the Mann government was being 'remote-controlled' by the AAP high command (read: Arvind Kejriwal) from Delhi, have now started saying that with the appointment of the Chaddha panel, even the last vestige of independence has gone.
While this might be wrong and the panel might have been appointed just to guide the Punjab government in putting in place the so-called 'Delhi model' to work in the state, the fact remains that such a thing could have been done at the party level without the need for a separate panel being formed specifically for the purpose to 'assist' the elected government. The formation of the panel sends wrong signals which might not go down well with the people.
The supreme leaders of all regional or small political parties are known not to trust any other leaders in the party and hence are known not to give independent decision-making responsibility to them. Arvind Kejriwal is no different. Since AAP has national ambitions, it is very important for it to ensure that the 'Delhi model' is implemented properly and in full in Punjab and more importantly, it succeeds as it has in Delhi. Only then can the party tout it as the 'Kejriwal model' when it campaigns in other states.
But the problem is that if the high command does not let state leaders work independently and continuously breathes down their necks, it might work against it in other states. The opposition will be quick to seize upon the fact and campaign against AAP in other states on that basis. It is sad that despite always saying that it is different from other mainstream parties AAP is following in their footsteps by taking steps to centralize decision making at the high command level and not letting state government work independently.