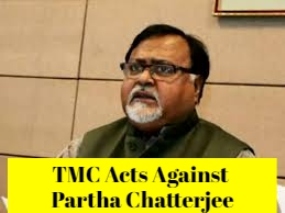 Senior TMC leader and minister in the Mamata Banerjee cabinet, Partha Chatterjee, who has been arrested by the Enforcement Directorate (ED) after the agency said he was giving evasive replies during questioning in the SSC recruitment scam in West Bengal, was today removed from the cabinet and all his portfolios will be temporarily looked after by the chief minister. Additionally, the party suspended him with immediate effect but left the door open by saying that he could rejoin if his guilt is not proved.
With unaccountable cash (the count till now is nearly 50cr), gold (in several kilograms) and more than 10 benami property papers being seized from several locations linked to Chatterjee and his close aide Arpita Mukherjee (who has also been arrested), the chorus for his removal was growing within the party. The party also must have got the feedback from the ground that people were talking derisively about this affair. Hence, despite being defiant for the last couple of days, the party acted decisively to remove Chatterjee from all posts and suspend him from the party. It said that there is zero tolerance for corruption in TMC.
But the TMC has asked the investigating agencies to complete the investigation in a time-bound manner and punish the guilty. It raised the point that such investigations are never closed and instead, used as a harassment tool. In the SSC recruitment scam, with unaccounted wealth tumbling out and many other things which can be used as evidence reportedly being collected from several locations, the investigating agencies should establish the money trail, link it to the accused and fast track the trial to bring the culprits to book. It will also help in proving that central agencies are not always misused.