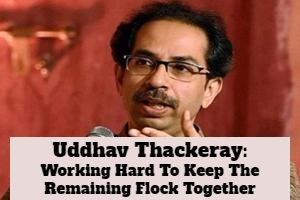 After an overwhelming majority of Shiv Sena (Thackeray faction) MPs indicated their desire to support NDA presidential candidate Droupadi Murmu, Uddhav Thackeray was left with no option but to accede to their demand. A cornered Thackeray has few options if he wants to keep the remaining flock together after the split in the party which has left him with only 15 MLAs. Although it is not certain that the MPs will still go with Thackeray when it comes to the crunch, by deciding to support Murmu, he has avoided another split for now.
The other fact that is plainly visible in Maharashtra is that despite Thackeray publicly thanking his Maha Vikas Aghadi (MVA) alliance partners for supporting him during the rebel crisis and both the Congress and the NCP saying that they will keep the alliance running, very little remains of the alliance. As both the Congress and the NCP are supporting the joint opposition candidate Yashwant Sinha in the presidential polls, Thackeray's decision is unlikely to go down well with them. Further, with Ajit Pawar of the NCP becoming the leader of the opposition (LoP) in the state assembly, Thackeray's faction is now aiming to get the posts of the LoP and chief whip in the legislative council. The NCP is also looking to get these posts as it is just two short of the Sena's tally in the upper house.
To pre-empt the NCP and to ensure that its members do not change sides, the Thackeray faction met the Council deputy chairman and submitted a letter staking its claim to the two posts. With 12 members in the house, ideally the Thackeray faction can get both the posts as it has more members than both the Congress and the NCP. But if some of its members change sides and support the Shinde faction, it might have to concede the post to either of its former alliance partners. That would be another setback for Thackeray and will further reduce his hold on the party.