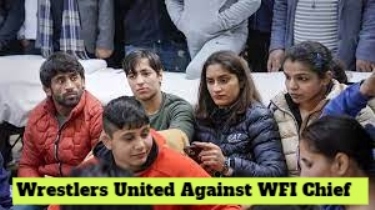 Close on the heels of sexual harassment charges against former hockey Olympian and now Haryana minister Sandeep Singh, prominent wrestlers have united to stage a dharna at Jantar Mantar in Delhi against the Wrestling Federation of India chief Brij Bhusan Sharan Singh. They have accused Singh of sexual harassment charges against wrestlers. The wrestlers, including celebrated names like Bajrang Punia, Sakshi Malik and Vinesh Phogat, have so far not yielded to overtures from the Centre and are determined to file an FIR against Singh.
The Centre has taken cognizance and has asked the WFI to explain. It also first sent former wrestler and now BJP member Babita Phogat as an emissary to know what the wrestlers wanted. Then, later in the evening, sports minister Anurag Thakur also held a meeting with their representatives. But the group is adamant and they want Singh to go. They will also initiate criminal action against him. The wrestlers want to keep the movement apolitical and when CPM leader Brinda Karat wanted to show solidarity, Bajrang Punia told her in no uncertain terms to get off the stage and not make it political.
It is disgusting that people in positions of trust and managing the affairs of a sports federation or looking after the sports ministry prey on female athletes and sportspersons. As the wards are vulnerable, these men often lure them with false promises. The government must not procrastinate - it must be strict whenever such allegations surface and must ask the concerned person to resign immediately pending investigation. Since these men often wield immense power, if they continue to hold the position they can spoil careers or otherwise harm sportspersons who expose them.
The sad fact is that since the accused are powerful, no action is taken against them by the federations and often the charges are dismissed forthwith without the need for an internal investigation. This state of affairs must be rectified. It is the sportspersons who bring glory to the nation and not association office bearers. If the allegations made by such sportspersons are not taken seriously, many promising careers will be nipped in the bud and the sport will suffer.