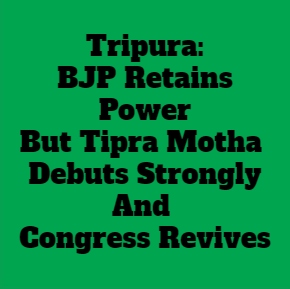 Although the BJP-led alliance is likely to cross the half-way mark and will, in all probability, form the government again, the Tripura elections have been closer than what the exit polls had suggested. With renewed support for the Left, which is aligned this time with the Congress (which has also done well, given that it was totally decimated last time) and debutant Tipra Motha performing well as expected, there were close fights in all seats. The Trinamool Congress, which fielded candidates in 28 seats, in not likely to win any.
While the Left, in alliance with the Congress, seems to have held on to its bastions, the BJP-IPFT alliance has suffered reverses at the hands of Tipra Motha which is poised to gain all the seats the NDA is expected to lose. This is a huge win for the new party which had spurned advances from both the NDA and the Left to align with them. With this performance, the Motha has cemented its place in Tripura's polity and is likely to emerge as a stronger force in the years to come.
While the BJP might claim that its performance means that it is a pro-incumbency vote, the fact remains that the tribal vote has swung from away from its ally, the IPFT, to the Tipra Motha. This fact was proved in the Tripura Tribal Areas Autonomous District Council elections in 2021 when the Motha won 18 seats and the NDA alliance only 9. The BJP had then unsuccessfully tried to form an alliance with the Motha. There are 20 seats in the state where the tribal vote can swing the result.
With the Tipra Motha charting an independent course, elections in Tripura will henceforth be three-cornered if the Left-Congress alliance continues or four-cornered if it breaks as Congress will then contest on its own. The TMC, it seems, has thrown the towel for now and is not taking Tripura seriously. In the event of division in opposition votes, the NDA will have it easy but if the Tipra Motha forms an alliance with the Left, it will seriously challenge the NDA in future.