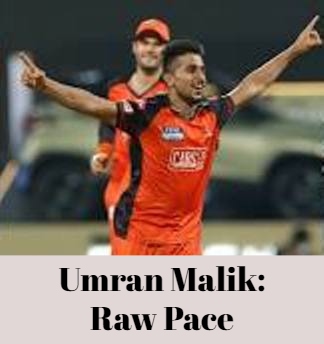 A 22-year old son of a fruit-seller from Kashmir has become the most talked about and watched cricketer in the IPL this year. Umran Malik has made people sit up and take notice by hurling the ball consistently at nearly 150kmph or above, making him the fastest Indian bowler ever. Not only that, the amazing accuracy with which he hurls these cannonballs at the batters adds to their discomfort and makes him achieve a healthy strike rate. The way he picked up 5 wickets for just 24 runs in his allotted 4 overs for Sunrisers Hyderabad in their match against Gujarat Titans was a testimony of his skill, accuracy and intimidating power.
Malik revels in sheer pace and accuracy. It is difficult to be consistently accurate while bowling at such speed but Malik does it effortlessly, making him a prized talent. His bowling is likely to make batters nervous and afraid as they get just a split second before the ball reaches them and since he is so accurate, they know that it will hit either their body or the stumps if they move away. This instills fear in the batters and works to his advantage. Although Malik is growing as a bowler, speed is a weapon that does not last long. He will have to pick up the other variations that pace bowlers employ to fox batters and that will come with experience.
The call to induct Malik in the Indian team is growing. India has been blessed with a pool of hugely talented pacers in recent times. Malik's addition will provide the shock value due to the pace at which he bowls and because of that he will have to be used judiciously. Former Indian great Sunil Gavaskar wants Malik to be in the team that will tour England this year. While that is for the BCCI and the selectors to decide, one this is sure - Malik has arrived and will be in the Indian team, sooner rather than later.