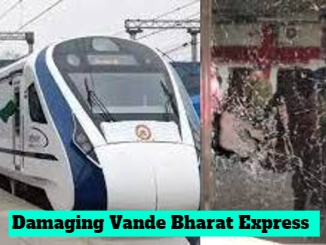 Mamata Banerjee is right. The state of West Bengal was defamed when the Railways hastily charged that miscreants in the state had pelted stones on the recently started Vande Bharat Express (VBE) and damaged it. (Although the first of the two stone pelting incidents is reported to have occurred near Kumarganj station in Malda in Bengal, the second is reported to have happened in Bihar). The Railways should not have jumped to conclusions. They should have carried out a proper investigation before making such damaging allegations.
Subsequent investigations have shown that four minors had pelted stones at the train in Kishanganj in Bihar. High resolution CCTV cameras on the moving train captured the incident in detail and showed how the minors assembled and pelted stones at the train. Three of them have been arrested by the Bihar police.
But what Banerjee said about the anger of the people of Bihar in not getting a VBE is wrong and thus pelting stones at the train is wrong. She said that BJP should not be vindictive in not allotting a VBE to Bihar just because it is no longer in power in the state. By that token, the BJP could have also not allotted the train to Bengal as it is also not in power in the state. Having held the Railways portfolio in the Central cabinet, Banerjee should appreciate that allotting trains like the VBE takes time and surely Bihar will also get one. She, too, must avoid making such allegations.
But the question of the railways making unverified allegations is serious. There is no doubt that the train was damaged by stone-pelting. But why should anyone in Bengal do so when the chief minister graced the flag-off ceremony and was appreciative of the fact that the Centre had allotted the VBE in Bengal? The Railways should exercise extreme caution before making such baseless and damaging allegations and verify facts through proper investigation before rushing to conclusions.